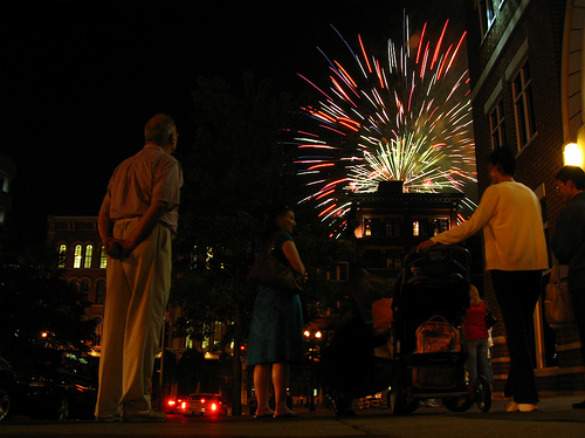 It's been a long time since I just kicked-back and enjoyed the summer as anything other than just "the hot as Hades" time for work.
So this year marked a dramatic departure from more of the same by actually heading downtown to watch Nashville's awesome (4th biggest in the USA) fireworks display.
Another thing that was really great about this year's Independence Day was that we totally dodged all traffic! Amazing, eh? The last time I took the family downtown for fireworks, I think that we spent 42 hours trapped in traffic and had to eat the weakest members of the tribe to survive.
Instead, we traveled to downtown with our friends Lauren and Dominick on the Music City Star, our local train service. The fees were small and the ride was fun. Everyone, even the kids, enjoyed it.
The crowds were mind boggling. When we first arrived, I thought "Oh my, it's crowded". Little did I know that we'd only seen about 1/10th of the crowds to come. In the end, it was totally worth it. The fireworks were totally amazing. The heat was also totally amazing, but in a not so good way.
We enjoyed a relaxed meal at the Spaghetti Factory along with an amble through the tourist strip. I also showed the folks around the scenic walking bridge for their first time up high where we took the two pictures above. Note that we ambled. Rachel might've mosied. But we neither meandered, nor shuffled. And walking was way out of the question – to intense.
The Breeze Family: Lauren, Dominick, & Kids
There were a few adventures in store when the local NFD wouldn't allow Lauren and I back up onto the bridge. But the NFD eventually had to relent because they just couldn't clear the bridge of the 10's of the thousands of people up there. (They should've blocked it off ahead of time if they thought it was too dangerous). But we were all eventually reunited for a rockin' fireworks show.
The train left promptly 30 minutes after the conclusion of the fireworks and got us all home in far less exhausted condition than I can remember for a 4th of July excursion.
It was just perfect. Cheers,
-Kev